Project Overview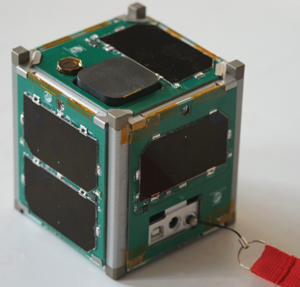 The goal of the CubeSat Lunar Lander project is to explore the technologies required for building a viable CubeSat device that can orbit and/or land on the moon. This project's predecessor was the Alaskan Ice Buoy Project which assisted in learning about the CubeSat Kit hardware that is also being used in this project.
We have built a single CubeSat to test the navigation components we would use to go to the Moon. Our CubeSat was launched into low Earth orbit as part of NASA's ELaNa IV program on the Air Force ORS-3 mission. The launch vehicle was an Orbital Sciences Minotaur 1 rocket launched from Wallops Island, VA, on November 19, 2013 (launch video). The mission, still ongoing, has been a success! We have downloaded many pictures from our spacecraft as well as other telemetry data.
Our next mission will entail building an ion drive powered CubeSat to explore the technologies required for powered flight. Such technologies will be essential, of course, when we go to the moon.
Tracking Information
Amateur Radio Operators who would like to track our low Earth orbiting CubeSat should email any packets received to carl.brandon@vtc.edu. Our down link frequency is 437.305 MHz, 9600 baud, FSK, AX.25. Our current TLE (July 5, 2015, updated as we get new tracking data). We appear to be International Designation: 2013-064AD also cataloged as NORAD: 39407U:

      1 39407U 13064AD  15186.46130922  .00091890  00000-0  10544-2 0  9998
      2 39407 040.5165 327.7280 0014517 040.1409 320.0484 15.60856969 88834
    
More tracking information can be found on the N2YO real time satellite tracking site.
News Coverage
Acknowledgments
This project is supported by grants from the Vermont Space Grant Consortium, a part of the NASA Space Grant program, NASA and EPSCoR. Vermont Technical College has also received generous donations of commercial software from AdaCore, SofCheck, Altran, and Rowley Associates to support using high integrity software tools and methods in the programming of the system.
Software to analyze orbits of our spacecraft has been supplied as a generous donation by AGI of their Systems Tool Kit.

This project built upon our previous Arctic Sea Ice Buoy project.